Aliza Begin (Arnold) was born on March 25, 1920, in the city of Drohobych. She came from a well-off family, who made their living in the oil business. Aliza's father, Zvi Herman, was an enthusiastic and active Revisionist Zionist who led the Betar movement in their hometown. Aliza herself began to study Hebrew at the age of seven and joined Betar at the age of fourteen.
In 1937 Betar started majorly organizing within Poland and future Israeli Prime Minister Menachem Begin was a part of that effort. While staying in Drohobycz, Begin stayed with the Arnolds. He later remarked in his memoirs that "at the table sat two girls, seventeen-year old twins". Begin also remarked:  "One of them I liked immediately. I decided right away that she would be my wife." Later, when discussing their relationship, Begin expressed his concern about the hardships that would await Aliza in their life together. He specifically stated that "life will be difficult, money will always be short; there will plenty of trouble, prison time included, but that is the price of fighting for the Land of Israel." Aliza replied that she "isn't afraid of the troubles."
As predicted, troubles were just around the corner. On May 29, 1939, Menachem Begin and Aliza Arnold were married in Truskavets. Shortly afterwards, Menachem left Aliza in order to organize the Aliyah of Betar activists to Israel. After returning, Mencahem and Aliza fled to Vilna on foot to escape the advancing Nazi forces. The Begins hid in Vilna until September 1940, when Menachem was arrested by the NKVD. In May 1941, Aliza decided to go to Israel on her own, convinced that she could help advance Menachem's release; however, she was arrested by British authorities immediately upon arrival. She was released only after having an asthma attack which affected her health for the rest of her life.
After being released from prison, Begin came to Israel with the Polish Armed Forces, also known as Anders' Army. While there, he assumed command of the Irgun, a decision that affected many lives and brought praise through the ranks of the Irgun. Between the years of 1943-1948, Aliza had to live in the shadow of her husband's position: changing identities, changing place of residence frequently, and often facing loneliness and difficulty. When she gave birth to her second daughter, Hassia, she was forced to do so in the absence of her husband, under a pseudonym, and with no access to help from the outside. Fortunately, the many challenges did not drive Menachem and Aliza apart – quite the contrary. Their friends spoke of a harmonious relationship and a deep connection between the two. Despite Aliza's near-complete avoidance of political activity and media exposure, she supported her husband's positions and shared his view of reality.
A notable feature in Aliza Begin was her extreme modesty, which led her to decline several advantages that came with her status, such as public appearances and having institutions named after her. She kept away from the spotlight to such an extreme degree that when she arrived on the night of the Revolution on May 17, 1977 to Beit Jabotinsky, the guard at the entrance refused to let her in.
Only the intervention of Yitzhak Shamir prevented amajor embarrassment. In his speech before a crowd of enthusiastic supporters who gathered to celebrate, Menachem Begin thanked Aliza for "your affection of youth, your love of espousal, how you went after me in the wilderness, in a land that was not sown," paraphrasing the verse from Jeremiah.
Aliza took part in a range of activities on behalf of weaker groups in society. Her well-known modesty did not stop her from taking advantage of her influence as the Prime Minister's wife. For example, she contributed to the establishment of hostels and schools for people with disabilities and special needs, and collected donations for a variety of organizations in the field. Menachem Begin's Nobel Peace Prize money was donated entirely to a fund established to support children in need and students.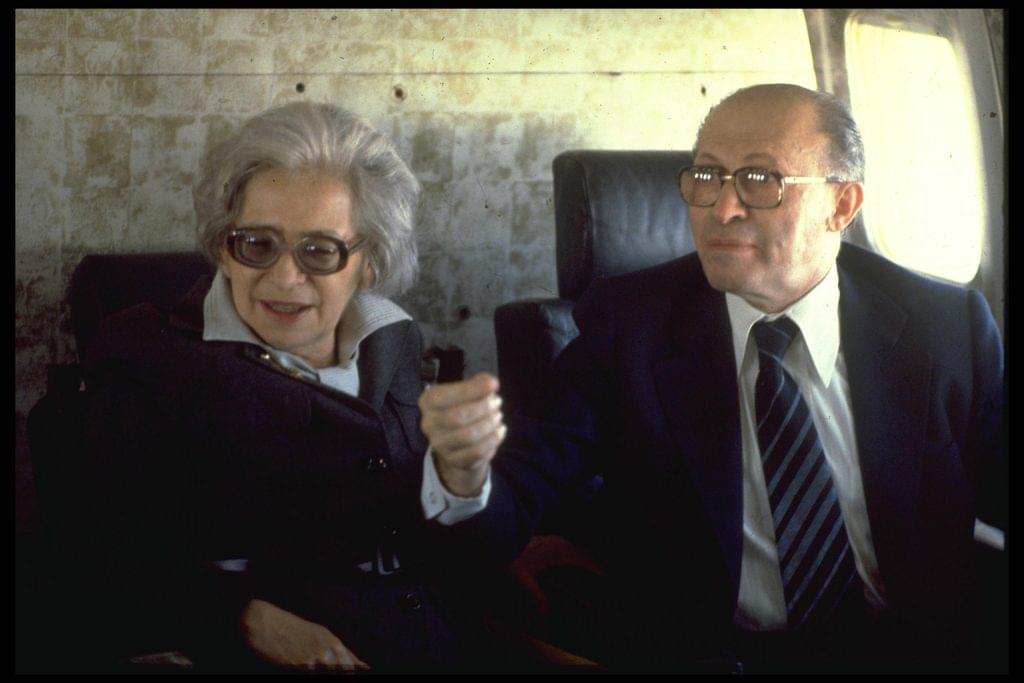 Aliza had suffered her entire life due to a severe lung disease. In 1982, her health deteriorated, she needed urgent hospitalization and experts from around the world flew in to examine and treat her. On November 13, 1982, while Menachem Begin was visiting with American President Ronald Reagan, Aliza's condition deteriorated rapidly and she passed away. The news of her death was given to Begin by his secretary, Yehiel Kadishai. Begin's response was short and pained: "Why did I leave her?" He asked himself and then fell silent.
Aliza Begin was buried on Mount of Olives, near the graves of Irgun members Meir Feinstein and Moshe Barzani, both of whom had committed suicide in prison before they could be brought to the gallows by the British. Aliza's death affected the Prime Minister immensely, and he resigned shortly afterwards.
Despite her reputation for modesty and reluctance toward media exposure, Aliza became one of the most popular wives of a Prime Minister in all of Israel's history. The Alei Zahav settlement, as well as streets and educational institutions in many cities, are named in her honor.